How to Plan a Sorority Bid Day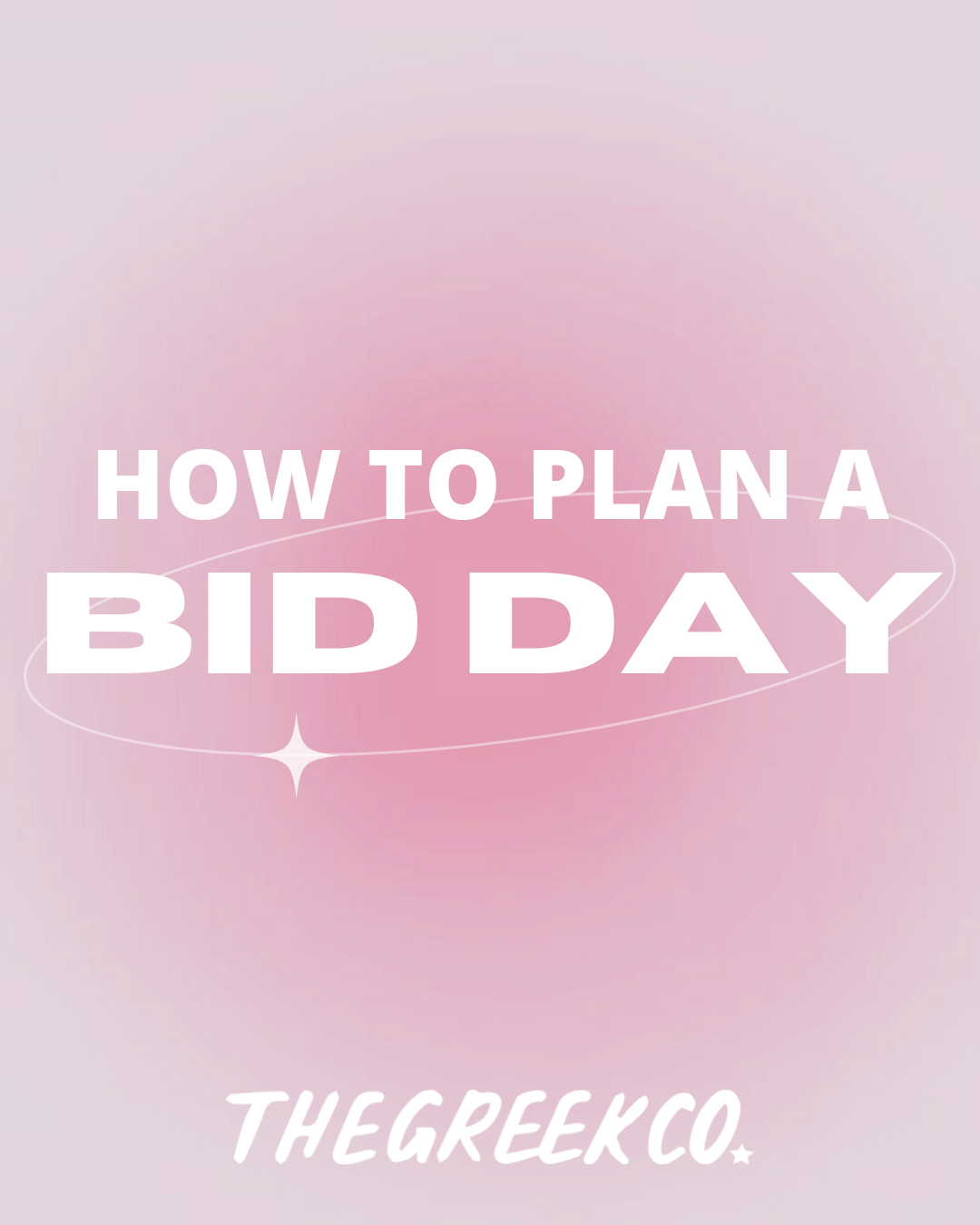 Set a Budget- Creating a budget to stick to is the most important step in the whole process. This will be your guideline for every decision you make in the planning process. It is likely your chapter finance chair will already have a budget set for you.
Create a Committee- Create a sign-up list for sisters to volunteer to help with either the planning, set-up, or clean-up of the event. Sisters who want to be the next bid day chair will be eager to gain experience with the event. If you have a hard time getting girls to sign up, you can even offer the incentive that they will get to know the bid day theme before the rest of the chapter and have the inside scoop ;)
Pick a Theme- This may be the hardest part. Chapters always want to do something that has never been done before, and in order to do this, you need to be really creative. Pinterest will be your best friend. You can use any current pop culture fads as inspiration. My advice to you is for each theme idea you have, try and imagine the decorations, shirts, and food that would go with the theme. If you can't think of any decorations for that theme, then it might be better to pick a new one.
Pick a Location- Choose one that not only fits within your budget, but also leaves you with plenty of money to use towards food, décor, shirts, and all the rest of the details. 
Food-

When it comes to choosing food, be sure to pick something that is versatile for all kinds of dietary restrictions. Start by searching up local places that do food catering and start making calls to see which options fit the event and your budget best.

Decorations & Activities- Choose decorations to fit your theme and plan activities accordingly. Some activity ideas include a dance floor and DJ, a photo booth, live entertainment, etc. For decorations, utilize your committee to DIY as much as you can and then buy whatever you can't make. Painting white sheets is an easy, cost-effective photo backdrop/banner.
T-SHIRTS- Saved the best part for last! Be sure to allow time for this process so you can perfect the design of your dreams. Start by contacting us here at The Greek Co and/or filling out our custom order form. Our designers will get on it right away to make any ideas you have come to life. If you have no idea what direction you want to go with the shirt, we can pitch you a few ideas and create some creative concepts.